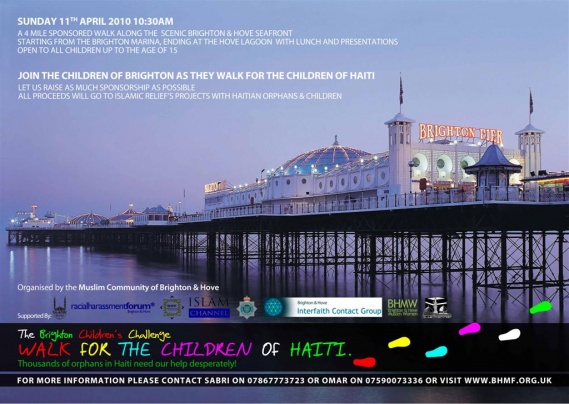 "All disasters are horrific and it is heart breaking when communities are wiped out in minutes, we want to help those children in Haiti who have been left with nobody and nothing, we want those children to know that they are not alone. This sponsored walk is a Muslim community lead event in response to a humanitarian crisis. Muslims are inspired by the Quran and teachings of the Prophet Muhammad to help fellow mankind during their hour of need. This is very important to the Muslim"
(Imam Muhammad Ismail, Imam and Muslim faith leader of the largest Mosque in Brighton)
The Muslim Community of Brighton & Hove will be hosting a children's charity sponsored walk along the iconic Brighton Seafront to raise money for the orphans of Haiti. The family event will provide an opportunity to integrate communities from across the city and raise awareness about the disaster in Haiti.
The Communities will be raising funds for a UK registered Charity and NGO, Islamic Relief which has launched a £1 million appeal to respond to the disaster. Islamic Relief has set up two camp sites and is currently setting up a third camp, providing for approximately 1,100 families. Each family has been provided with a tent, kitchen and hygiene kits, food packs, medical equipment, blankets, wheelchairs and water filtration bottles. The distribution of food to over 1,000 families and daily water tanker deliveries has also been continued by Islamic Relief.
Supported by the Multi Faith Group, The Racial Harassment Forum, Brighton & Hove Police and many other local and national community organisations. The walk will kick start at the Brighton Marina at 10.30 am and end in the Hove Lagoons (distance approx 4.3 miles). Children will be rewarded with a medal for their effort.
For further information about the Charity Walk please contact Sabri Ben-Ameur on 07867773723, Omar Ali on 079590073336 or visit: www.islamic-relief.org.uk.
Download the Haiti Walk Sponsor Form: sponsor-form.pdf (883kb)